Public Safety Building, Frankfort, Kentucky
Pervious concrete Design and Installation, Frankfort, KY
This parking lot was created in 2009 as part of a stormwater compliance initiative by the City of Frankfort, Kentucky, by tearing-down an older building and re-developing the site as a parking area. The first of its kind in Kentucky.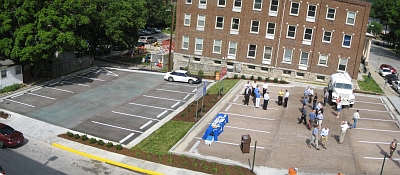 The pervious concrete parking surface is a two-tiered surface. This section shows an 8" pervious concrete slab with a washed gravel subbase reservoir. These reservoirs capture and infiltrate rain water that falls on its area, completely eliminating runoff from the parking lot. Read
"BusinessLexington"
.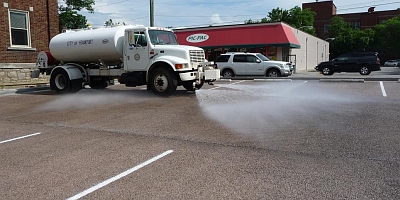 The project received the 2009 Project of the Year Award for Storm Water Improvements from the Kentucky Chapter of the American Public Works Association.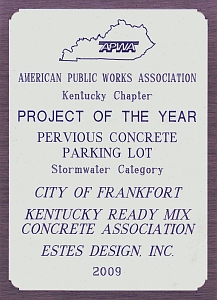 Read the news article of the "Business Lexington".