Marvin Ridge Middle and High School
NOV Compliance Assistance and Stormwater pond retrofit
Union County Schools, Marvin, NC
State NOV Compliance
In a flurry of new construction, the stormwater ponds at Marvin Ridge Middle and High School had NOVs (notice of violations) from the State of North Carolina. The ponds were undersized, there were too few of them, and they were constructed incorrectly.
Estes Design was contracted to assess damages and plan a retrofit for compliance with state regulations. The two existing ponds were improved by adding forebays and littoral shelves. They were expanded to increase capacity and were reconfigured to improve function. A third pond was added to increase capacity and 4' fences were installed around all of the ponds.
After the retrofit was constructed, the ponds were inspected and the NOVs were lifted.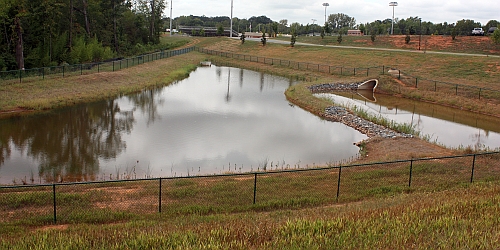 Marvin Ridge South pond completed retrofit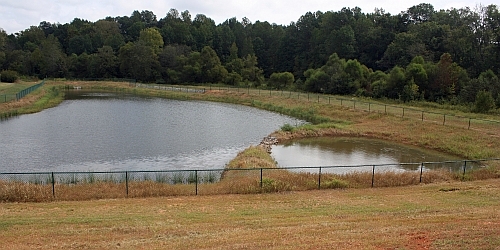 Marvin Ridge NE pond completed retrofit
Please contact us for assistance with NOVs!