Rea View Elementary School
EDI Plunge Pool Research utilized for
Union County Schools, Marvin, NC
Research
Plunge pools form downstream of stormwater pipe outlets, and generally reach a maximum size. They are very important for energy dissipation and maintain stabile stream systems. Interfering with stabile pool systems can be devastating to the stream. But understanding them can be beneficial for new pipe infrastructure. Estes Design researched appropriate sizing of these pools in order replicate them for low impact energy dissipation.
Surveys of 17 mature urban plunge pools were made to determine the physical dimensions. The dimensions were correlated with stormwater flow to yield design equations for sizing storm drain outlet plunge pools in the Carolina Piedmont. The results of this research was published in the February 2005 issue of the Journal of The American Water Resources Association (JAWRA).
The information posted below is for information purposes only. Any use for design criteria is at the risk of the user.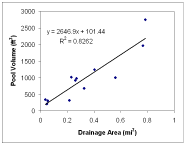 Practical applications
Estes Design's Plunge Pool Research was used to size plunge pools at two culvert crossings. The plunge pools dissipate stormwater energy, facilitate aquatic habitat connectivity, and provide outdoor learning experiences. The resulting project restored compliance with state and federal regulators and saved over $500K in potential construction remediation.