Invasive Species Management
Kudzu is likely the most extensive invasive plant in the American Southeast. Kudzu was first introduced to the US at the Centennial Expo in Philadelphia in 1876. It was promoted as erosion control in the 1920-30s by the US Soil Conservation Service.
The southeastern US proved to be a perfect habitat for kudzu, with its warm, hot summers, lack of cold winters and absence of predators. Kudzu can grow up to one foot a day and averages 60 foot a year.
Kudzu was declared a weed by the USDA in 1972, and now blankets much of the southeast. It covers existing vegetation and buildings, choking out the light necessary for photosynthesis by native plants.
One very promising trend, especially in the removal of Kudzu, involves the removal of kudzu using rented goats. Especially when used near streams, they are an effective way to control and eventually eradicate kudzu regrowth without the harmful blanket use of pesticides.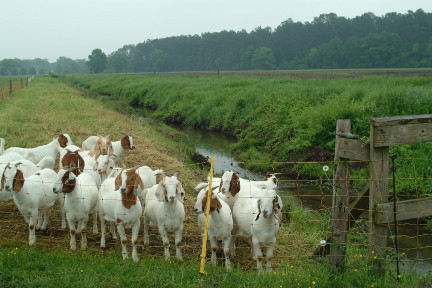 Image courtesy of Jean Marie Luginbuhl of NC State
Goats have been used in multiple places nationally to control invasive species including locally at Davidson College (2011), Daniel Stowe Botanical Garden (2012), and regionally at the Atlanta International Airport (2012), and across the country at both the Chicago O'Hare International Airport (2012) and at Google Headquarters in Mountain View, CA (2009).
Estes Design can assess the extent of your kudzu infestation and manage its removal. Please contact us for more information!