Pervious Pave Design, Installation & Monitoring
Our regional water quality problems
For the past 100 years, the percentage of impervious areas (parking lots, roads, rooftops, driveways, etc) has risen alongside increases in human population so dramatically that the quality of our water resources have suffered. Piedmont landscapes before extensive urban development functioned like the following diagram: the majority of rain events were infiltrated into the ground surface and traveled slowly through the shallow groundwater to creeks.

Fig 1. Pre-development Hydrology
However, buildings and roads need to be constructed on compacted soils for stability. Paved areas support use by cars and trucks, but block the infiltration path water normally takes. Engineered stormwater infrastructure typical of the past 50 years functions like the diagram below: the ground surface is paved and graded to direct water from storms into gutters, then to catch basins, then to pipes that lead directly to creeks. From a human perspective, it quickly removes water from our roads, but our local creeks suffer by dramatically increasing erosion and pollution.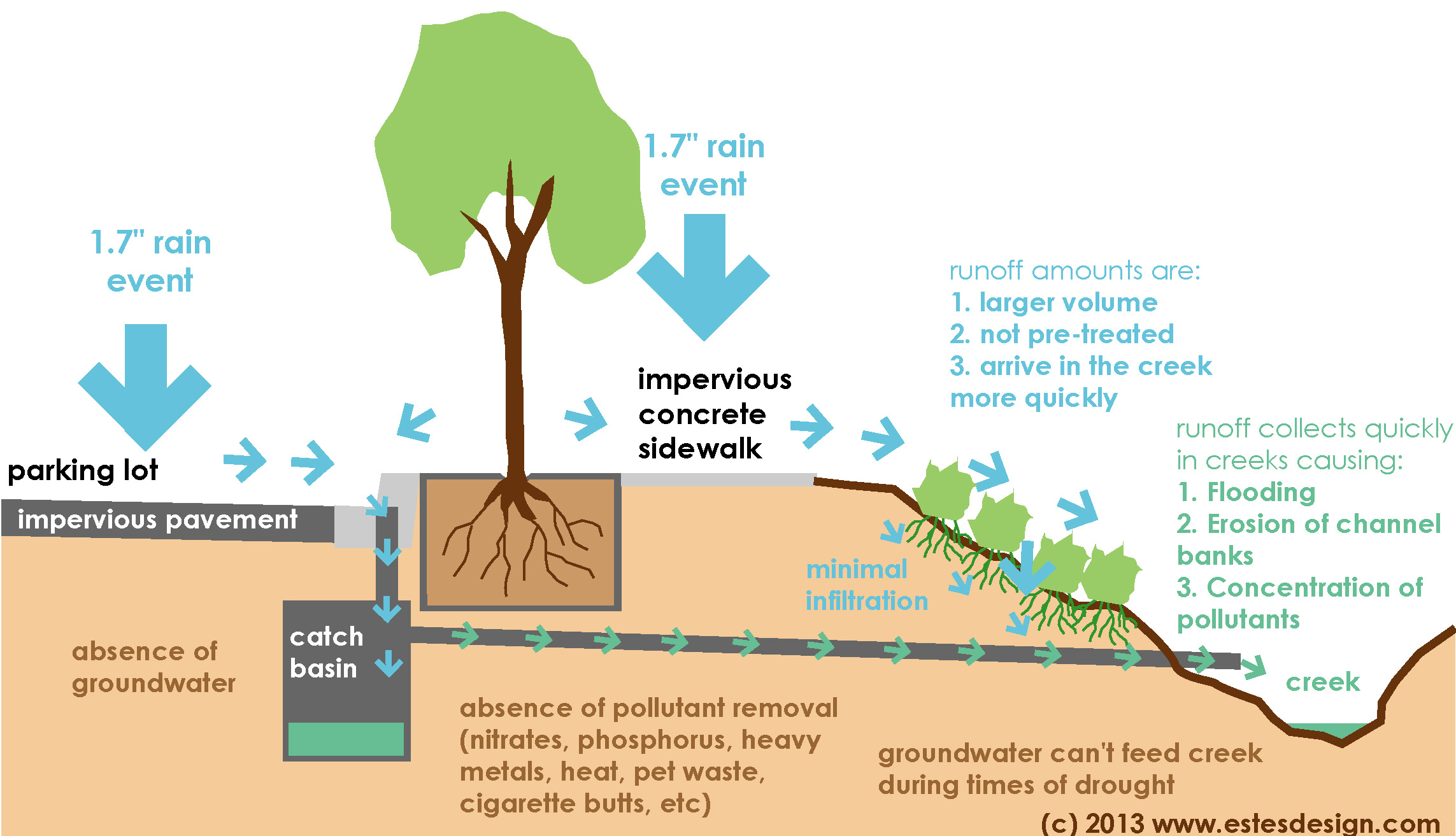 Fig 2. Impervious Concrete Hydrology
The stream restoration industry has exploded over the past 10 years, and billions of dollars have been spent. While stream restoration can improve the symptoms caused by an overabundance of paved areas, it does not directly address the problem. Pervious concrete combats the problem directly with infiltration. Water infiltrated into permeable pavements, such as pervious concrete systems, drains through the concrete to a gravel reservoir located directly underneath. Once there, the water is slowly released into the soil below.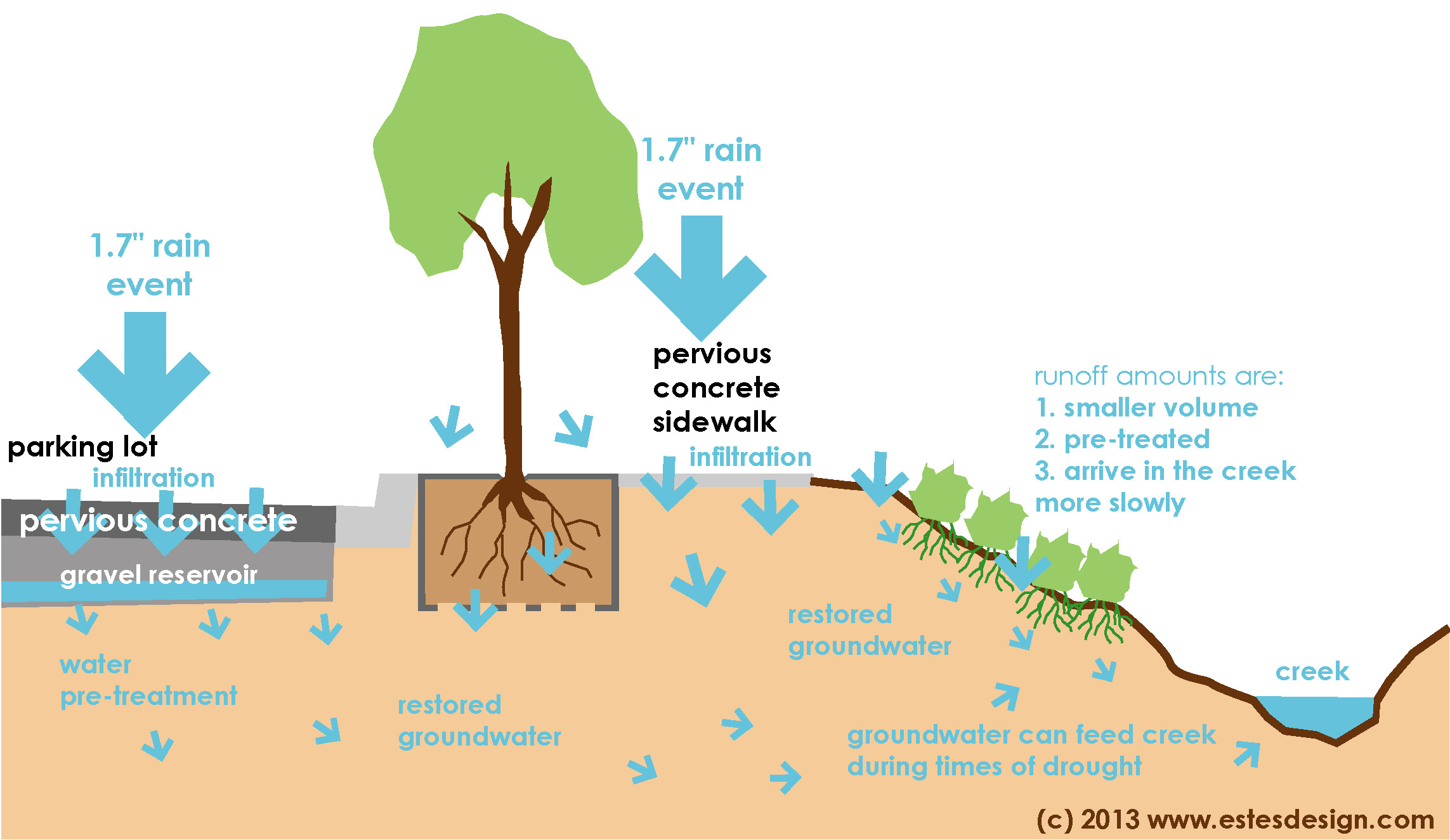 Fig 3. Pervious Concrete Hydrology
Water released into the soil arrives at local creeks and rivers at a much slower rate, reducing peak flows and volume problems that mobilize sediment and other pollutants in small creeks. Water that travels through the shallow subsurface is also pre-treated via chemical interactions with the soil. In this setup, pervious pavement restores the infiltration hydrology while maintaining the structural support needed for urban development.
Water quality will continue to degrade and we will continue to see both high flows and dry streams until the shallow groundwater hydrology is restored in urban areas.
Design and Installation
Estes Design designed and managed a few of the first pervious concrete projects:
These projects are the first of their kind in in their respective state, and are unique because they have been monitored and proven to perform the way they were designed. Wilmore Walk was the first commercial pervious concrete project to be built and researched in North Carolina.
In most places, the reserviors beneath pervious concrete are easily designed to retain and infiltrate the 10-year storm, at which point detention ponds are not required. In many places, reserviors can consistently infiltrate greater than the 10-year storm (including Wilmore Walk above). Larger storms are conveyed though overflow systems.
The National Pervious Concrete Pavement Association and the Carolina Ready Mix Concrete Association partners with Estes Design because we have been an active advocate of infiltration as a solution for stormwater since 2004. We have championed the idea to state regulators and professional consultants in the southeast and midwest US.
Contact us for design and installation services
in the Carolinas and Southeast U.S.!
Research to Regulation
The pervious concrete research completed at Wilmore Walk is the first of its kind in North Carolina. The methodology and successful results of using pervious pavement were translated into revisions to the built upon area and pollutant removal credits (from zero credit to 25/50% BUA and 85% TSS credit) for pervious pavement in North Carolina's latest BMP manual revisions and current regulatory initiatives (NC DWQ's BMP manual, Chapter 18 Pervious Pavement) which resulted in a 2011 NCASLA Merit Award for Research.
Estes Design's role in the projects studied, included introducing the concept of infiltration in lieu of more traditional BMP's, preconstruction site evaluation, soil testing, conceptual design, regulatory permitting, hydrologic modeling, final design, construction oversight, implementation of the monitoring program and data synthesis. Estes Design also initiated collaborative efforts between University staff and municipal staff for extended monitoring that resulted in a detailed two year study Master's thesis.
These projects reflect confidence in a quantifiable design methodology for stormwater infiltration that can be reproduced by experienced stormwater professionals. Despite popular belief, they also illustrate successful infiltration results in clayey soils in the Piedmont Geographic Region of North Carolina.
Pervious Concrete Demonstration:
Ready-Mix Concrete Association; Lexington, KY

This LEX18 Morning News video demonstrates the ability of water to pass through pervious concrete. This parking lot at the Lexington Homebuilders Association was designed by Estes Design to prevent runoff from the parking surface.
"...if you have a weak bladder, you may want to leave the room..."
Pervious Concrete In Action:
Wilmore Walk; Charlotte, NC

This LID project includes a pervious concrete parking lot, atop a basin that captures & infiltrates storm water, preventing runoff from this parking area. The reservoir was conservatively designed for up to the 2-year storm, however, monitoring has shown that the reservoir can easily accomodate the 50-year storm.
Estes Design is your environmental design and consulting resource.